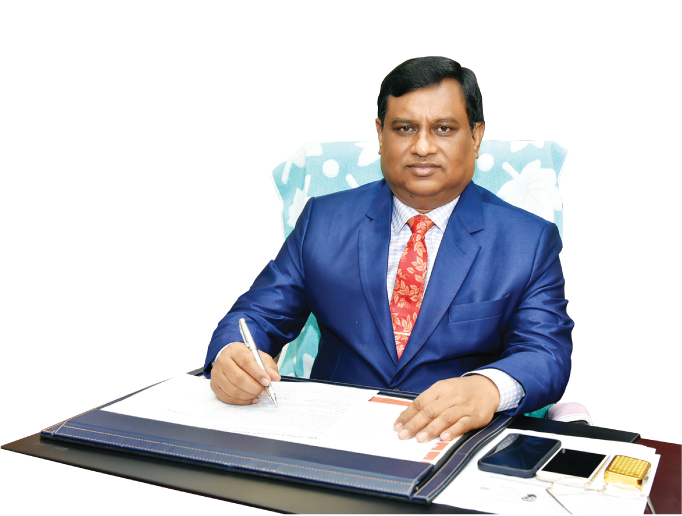 Message From
The Chief Executive Officer
Bismillahir Rahmanir Rahim.
Dear Shareholders & Patrons,
Assalamu Alikum Wa-rahmatullah.
Fareast Islami Life Insurance Co. Ltd. (FILIC) has recently completed 20 years of operations. The closing of 2019 has been on a high note, with the Company gaining on various industry parameters. Your Company has achieved a Gross Written Premium (GWP) of Tk. 10,539 million out of which New Business Premium (NBP) was recorded at 3,151 million. It gives me immense pleasure to share with you the highlights of our performance in 2019 under the contents of Key Financial Indicators. We believe that this performance has only been possible due to the dedication and commitment of all our employees and partners, and the trust our customers place on us. With this trust comes the responsibility of delivering on the promises made to them and protect their future through our services.
We believe that year 2019 has been positive for the Company. We have entered the 20th successful year of operation. Keeping the tradition of sustainable growth, in First year and Renewal Premium during the year. In our endeavor to expand our business and build a larger customer base, we have expanded our reach, increased our employee strength and continue to develop a stronger sales network. This has helped us to connect well with our customers and serve them better. We have achieved our business target through our distribution channel, this was possible due to our focus on enhancing distribution efficiency.
We have continued our Claim Settlement Ratio related with the last year. The performance is the result of our sustained efforts to improve the quality of business and customer focus. While achieving business excellence, our focus has always been towards placing our customers at the heart of everything we do and we continuously strive to serve them better.
It gives me immense happiness to inform you that FILIC was recognized among the Most Trusted Brands in Life Insurance business in the country. This continuous recognition has only reinforced our faith and belief in ourselves, pushing us to perform even better. These achievement are a testimony to the company's value-driven commitment towards its customers and stakeholders and our professional excellence.
The Company has continued to remain committed to the cause of providing innovative products to our customers. 2019 was a year of renewed focus on customer service, delivery, process automation and enhancements in business process and quality. We expect that our dedicated efforts should help us in sustained development in the coming years. We are also working towards increasing our geographical reach by opening new avenue except but reducing the branch offices. This reinforces our commitment to invest in growing regions which will support the overall premium growth of the Company. We shall undertake the process of digitizing operations from making the sales process automation and paperless to launching mobile learning Apps solution for internal and external customers and employees. This year Company's technological initiatives have accelerated our achievements and scale of business.
We continue to build on our existing corporate culture and strengthen our image as a socially responsible insurance company through various corporate social responsibility initiatives including social issues. We are also focusing on customer education initiatives to improve the overall understanding and importance of insurance in customer's minds. We feel this will help them choose the right products for their insurance needs and also secure their family's future in case of an exigency. The life insurance industry is entering a new growth phase with the help of positive regulatory initiatives. Government is working hard to provide simple and cheap insurance schemes so as to improve financial inclusion and encourage the low income earners to enter the formal financial system with an aim to increase insurance penetration in the coming years. Demographic situation in the country gives us a strong insurable market with a large young working population. Our regulator Insurance Development and Regulatory Authority (IDRA) plays a crucial role in developing the insurance industry and we are working with them in their endeavor. Our growth has been achieved by the hard work, commitment and dedication of our employees which is why we believe that this growth will be sustained in future as well.
I take this opportunity to express my sincere gratitude for your continued trust and support in this Company. I would also like to thank all our customers for giving us the opportunity to serve them and appreciate the efforts of our partners and other stakeholders for their hard work and dedication to take this Company forward. The IDRA has been very supportive of our efforts and we thank them for their continuous guidance and support. Our commitment to deliver only the best to our customers, employees, partners, regulator and each and every stakeholder remains ever the same. We wholeheartedly thank each one of you for your support, which has helped the company live up to its people's expectations. We look forward to serving and working closely with all of you in our onward journey to set newer benchmarks and bigger milestones.
May Allah help us,  Ameen.
Ma-Assalam ,
Chief Executive Officer (CEO)